The School of Strategic Communication, in partnership with the Texas Association of Municipal Information Officers, proudly recognizes the second graduating cohort from the Certified Public Communicator program, the nation's advanced executive education program for public information professionals.
Twenty public communication professionals participated in the cohort, which included 95 hours of instruction in residence since July 2014. The post-baccalaureate, graduate-level residential program includes extensive coursework and each graduate must create a three-year comprehensive communication plan. These plans are reviewed and approved by their organizations and by strategic communication professors from TCU's School of Strategic Communication, part of the Bob Schieffer College of Communication.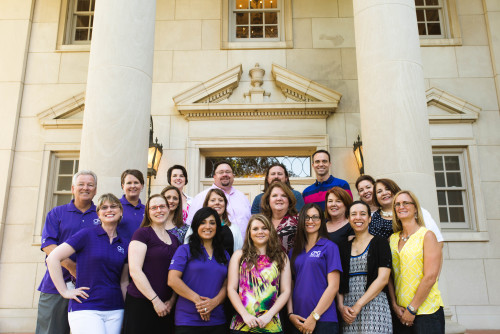 Photo Credit: Bianca Castro (2015)
Congratulations to summer graduates from these cities and other public-sector organizations:
Ginger Awtry, Westlake, Texas
Dana Baird, Frisco, Texas
Jessica Beyer, Blue Earth County, Minn.
Corky Brown, Cedar Hill, Texas
Catherine Carlton, MHMR Tarrant County
Angela Fritz, Rosenberg, Texas
Jennie Huerta, Cedar Park, Texas
Lacey Lively, College Station, Texas
Erin Mynatt, Melissa, Texas
Maria Rios, Texas Council of Community Centers
Pilar Schank, Southlake, Texas
Arianne Shipley, Mansfield, Texas
Sabreana Smith, Cedar Hill (Texas) ISD
Beth Trimble, DeSoto (Texas) ISD
Terri Waggoner, Pflugerville, Texas
Jay Warren, Arlington, Texas
Stephanie Zavala, (Water) Fort Worth
Karen Zitomer, Roswell, Ga.
Two additional students will receive certificates later this year.
The curriculum offers leadership training and coursework designed for the complexities and challenges of communicating with residents and stakeholders specifically for professionals working for cities, counties, school districts and other public and public-private agencies.The third cohort is already underway with 24 participants stretching nationwide to include representatives from cities and counties in Alabama, California, Colorado, Georgia, Iowa, Oklahoma, Nebraska and Texas, plus from several schools, school districts and colleges in Texas.
Since 2013 TCU has partnered with TAMIO to offer this first-of-its-kind program to public information professionals. Early in 2015, another group joined the partnership: The National Association of County Information Officers.
ABOUT TAMIO: TAMIO is an affiliate of the Texas Municipal League, which represents some 98 percent of Texas' urban population through its more than 1,000 member cities and towns. Organized in 1913 as an information association of 14 municipalities, TML today is a progressive, multi-million dollar enterprise offering a wide variety of services to Texas cities. As partners, TML and TAMIO offer the best in representation and assistance to cities and their respective colleagues.
ABOUT TCU's SCHOOL OF STRATEGIC COMMUNICATION: Based in the Bob Schieffer College of Communication, the school serves about 400 undergraduate and master's students studying advertising and public relations through an integrated curriculum. The school, with 13 full-time faculty members, has offered the Certified Public Communicator program since 2013. For more information about the school, please visit www.stco.tcu.edu ; for more information about the certificate program, please visit www.certifiedpubliccommunicator.org.